LEVOCETRIZINE
Levocetirizine
(as levocetirizine dihydrochloride) is a third-generation non-sedative
antihistamine
, developed from the second-generation antihistamine
cetirizine
. Chemically, levocetirizine is the active
enantiomer
of cetirizine. It is the
R
-enantiomer of the cetirizine
racemate
. Levocetirizine works by blocking
histamine receptors
. It does not prevent the actual release of histamine from
mast cells
, but prevents it binding to its receptors. This in turn prevents the release of other allergy chemicals and increased blood supply to the area, and provides relief from the typical symptoms of hay fever.
The manufacturers claim it to be more effective with fewer
side effects
than the second-generation drugs; however, there have been no published studies supporting this assertion, although other studies have concluded it may be more effective.
[1]
In India, levocetirizine is marketed by
GlaxoSmithKline
under the brand name
Vozet and Xyzal
. On May 25, 2007, the
United States Food and Drug Administration
approved Xyzal, where it is co-marketed by
Sanofi-Aventis
. Torrent Pharma launched
UVNIL
in rural market of India. It is also available as LEZYNCET 5 mg tablets through Unichem in India. In India, generic name of Lev-Cit 5 mg is manufactured by VIP Pharmaceuticals. Also marketed in India by Croslands (Ranbaxy Laboratories Ltd.) under the brand name
Teczine
. In Brazil it is marketed under the brand name '
Zyxem'
by Farmalab. It is marketed in Egypt by BORG Pharma under the brand name '
Xaltec'
,
Allear
by western pharmaceuticals and
levcet
by marcryl.
In Pakistan levocetirizine was first launched in liquid formulation by Novartis Consumer Health Division by the name of
T-Day
Syrup. It is available as 5 mg-strength tablets and a 0.5 mg/mL oral solution. In Pakistan levocetirizine is available in liquid formulation as well with the name of OCITRA and T-Day 2.5 mg/5 mL. In
Bangladesh
levocetirizine is available in 5 mg tablet & 2.5 mg/5 mL oral liquid formulation with the brand name of
Alcet
marketed by Healthcare Pharmaceuticals and
Seasonix
marketed by
Incepta Pharmaceuticals
. In
Nepal
levocetirizine is available in 5 mg tablet with brand name of
Curin
manufactured by
Beximco Pharma
.
[2]
The drug is currently available by prescription in the United States. Although the drug was only authorized by the FDA on 25 May 2007, it was already available in most European countries. Like many new drugs it entered the market at a higher price than currently available third and second generation antihistamines. In India, one form of the drug is available as Crohist MK tablets and syrup, a formulation of levocetirizine hydrochloride and
montelukast
. In India, Crohist MK is a
Schedule 'H'
drug and may only be prescribed by a registered medical practitioner. In Finland, the drug is sold over-the-counter.
BACKGROUND
Cetirizine, chemically [2-[4-[(4-chlorophenyl)phenylmethyl]-1-piperazinyl]ethoxy]acetic acid is an antihistamine non-sedating type histamine H1-receptor antagonist, indicated for relief of symptoms associated with seasonal allergic rhinitis, perennial allergic rhinitis and related diseases.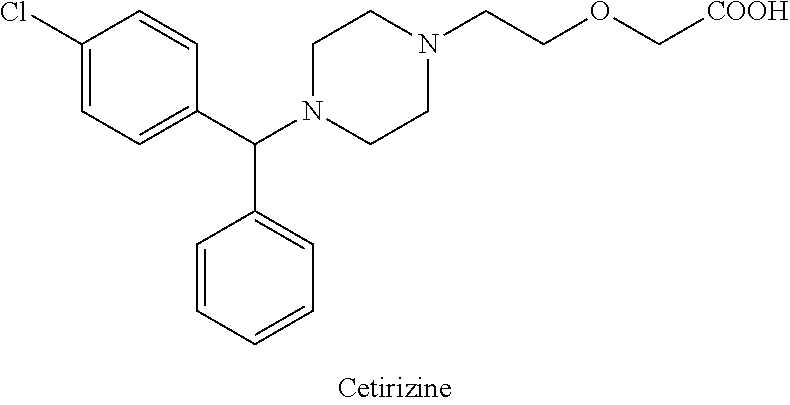 U.S. Pat. No. 4,525,358 and its equivalent EP 58146 disclose cetirizine and its pharmaceutically acceptable salts. The process for the synthesis of cetirizine comprises condensation of 1-[(4-chlorophenyl)-phenylmethyl]piperazine with 2-chloroethoxy acetamide to obtain 2-[2-[4-[(4-chlorophenyl)phenylmethyl]-1-piperazinyl]-ethoxy acetamide which on hydrolysis gives cetirizine.
It was found later that the pharmacological activity resides primarily in (R)-isomer or (−) form known as levocetirizine. GB 2225321 describes a process for the preparation of the dextro and levorotatory isomers of cetirizine comprising hydrolysis of 2-[2-[4-[(4-chlorophenyl)phenylmethyl]-1-piperazynyl]-ethoxy acetonitrile.
(−)-1-[(4-chlorophenyl)-phenylmethyl]piperazine is a very important intermediate in the synthesis of levocetirizine. U.S. Pat. No. 5,478,941 discloses a process for the synthesis of (−)-1-[(4-chlorophenyl)-phenylmethyl]piperazine involving hydrolyzing 1-[(4-chlorophenyl)-phenylmethyl]-4-(4-methylphenyl)sulfonyl piperazine with hydrobromic acid in the presence of 4-hydroxybenzoic acid.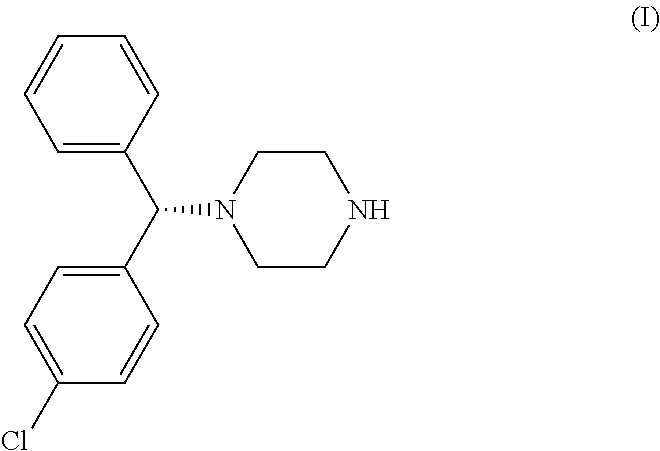 The alternative routes of synthesis of (−)-1-[(4-chlorophenyl)-phenylmethyl]piperazine disclosed in the prior art involve the use of bis chloro ethylamine which is carcinogenic in nature.
Levocetirizine is a highly-potent non-sedating anti-allergic agent. Hence, there are continuous attempts to develop new processes for the synthesis of levocetirizine and its intermediates. The present invention describes a new process for the preparation of the key intermediate (−)-1-[(4-chlorophenyl)-phenylmethyl]piperazine.
Levorotatory [2-[4-[(4-chlorophenyl)phenylmethyl]-1-piperazinyl]ethoxy]acetic acid, also known by the generic name of levocetirizine, has proven useful as a therapeutic agent for the treatment of allergic disease.
Levocetirizine and its salts including its dihydrochloride are known and are effective in the treatment of allergies, including but not limited to, chronic and acute allergic rhinitis, allergic conjunctivitis, pruritus, urticaria and the like. Levocetirizine belongs to the second generation of H1 histamine receptor antagonists, which are believed to offer significant advantages over first generation compounds. Studies have shown that levocetirizine provides safe and effective symptomatic relief of seasonal allergies. Levocetirizine is used also for treating chronic idiopathic urticaria.
GB 2,225,321 describes a process for the preparation of cetirizine in the levorotatory form, dextrorotatory form or a mixture thereof comprising the hydrolysis of enantiomerically pure [2-[4-[(4-chlorophenyl)phenylmethyl]-1-piperazinyl]ethoxy]acetonitrile. Hydrolysis takes place in aqueous, alcoholic or aqueous-alcoholic medium by a base or by an acid; the acid thus obtained is converted to its dihydrochloride. Optically active starting material 1-[(4-chlorophenyl)phenylmethyl]piperazine is obtained by resolution of the corresponding racemic compound, preferably by conversion to its diastereoisomeric salt with tartaric acid. The yield of resolution is rather low, namely only 12.7%. The obtained optically active intermediate is further converted with chloroethoxyacetonitrile in 69% yield.
EP 0 617 028 and EP 0 955 295 disclose a process for the preparation of optically active 1-[(4-chlorophenyl)phenylmethyl]piperazine and its conversion to cetirizine in the levorotatory form or dextrorotatory form or to derivative thereof. The process for the preparation is shown in the following scheme:
The drawback of the disclosed reaction is that it requires protection of N,N-bis(2-haloethyl)amine, and consequently deprotection of the intermediate obtained.
Preparation of Cetirizine in its Levorotatory Form Proceeds in most known syntheses from enantiomerically pure 1-[(4-chlorophenyl)phenylmethyl]piperazine. Consequently it appears to be very desirable to provide new routes to prepare the enantiomers thereof with improved optical purity and good yields.
Polymorphic form I of crystalline levorotatory dihydrochloride salt of cetirizine and amorphous form thereof are disclosed in WO 2004/050647 and WO 2004/065360. Crystalline form is prepared by crystallization from ketone-containing solvent, such as acetone, methyl ethyl ketone, dimethylketone, 2-pentanone and mixtures thereof. Amorphous form was prepared by solvent evaporation.
There still exists a need for an efficient synthesis of levocetirizine, new intermediates used in the process, suitable for large-scale production.
Synthesis of Xyzal:
Figure 2 displays the synthesis of Cetirizine (Zyrtec). Levocetirizine, the R-enantiomer of cetirizine, is then formed from pyroglutamate salts in a synthesis that does not have attainable details.
(Figure 2)
The synthesis of Cetrizine begins by reducing molecule 33 with a catecholborane. This reaction yields molecule 34, which is then treated with tetraflouroboric acid and reacted with an amine, compound 35. In order to remove the chromium group, the compound is refluxed in pyridine and undergoes an acid hydrolysis. This results in a yield of cetrizine.
Identification of all chirality centers:
Stereogenic centers are carbon atoms that are bonded to 4 groups. Tetrahedral stereogenic centers are stereogenic centers that are not only bonded to 4 groups but are more importantly bonded to 4 different groups. If a molecule contains 1 tetrahedral stereogenic center it is said to be chiral (nonsuperimposable on its mirror image).If a given compound contains more than 1 stereogenic center it must be further analyzed to determine if it is chiral or achiral(superimosable on its mirror image). The carbon atom bonded to the phenyl groups was found to be a tetrahedral stereogenic center. Therefore,xyzal,which was found to contain only 1 tetrahedral stereogenic center is generally considered a chiral compound because it meets the requirements of chirality and does not have a plane of symmetry that superimposes one half of the molecule on the other and is not super imposable on its mirror image.
Spectral data for Xyzal (IR and NMR)
: